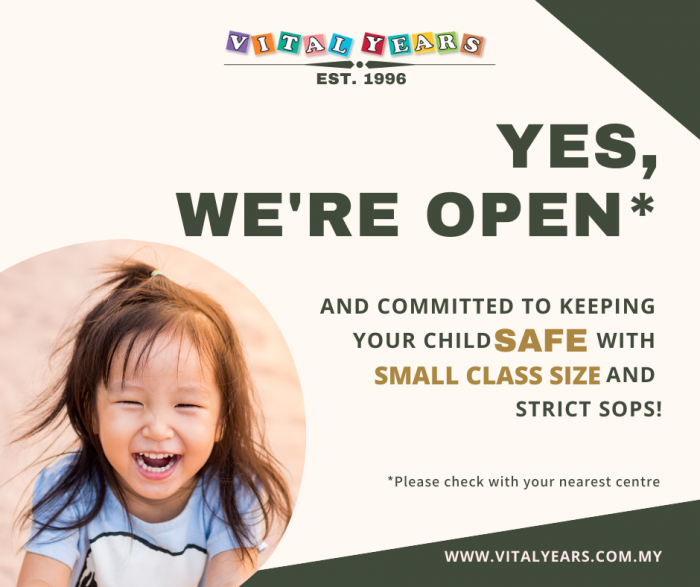 Posted by admin on / 0 Comments
Our centres are open with strict SOPs in place. We promise to keep our class size small and maintain cleanliness at all times. In return, we ask for parents to be transparent about any exposure to the virus so that necessary steps can be taken. It's the least we can do to take care of...
Read more
Our Slogan
Reading Opens Doors
Our Programme
The VITAL YEARS Early English Literacy Programme recognises that children are natural readers, decoding and differentiating the sights, sounds and sensations around them from the moment they are born. Because our method harnesses the way in which they were BORN to learn, children progress …
Read more
Our Vision
To make every child a literate child, and to instil in every child the love for reading.
Our Mission
To help children of all backgrounds to learn to read speedily and in a totally stress-free way and in the process to nurture the skills of writing, speaking and listening, and to encourage creativity and critical thinking skills.
Our Technology
Our centres are equipped with interactive SMART Boards to promote active engagement, collaborative learning and verbal interaction. The optimal use of the SMART Board puts us in the forefront of education, providing endless opportunities to enhance our children's speaking skills and their ability to use language for …
Read more
Our History
The VITAL YEARS Early English Literacy Programme was born out of a mother's love for her children. By 1974, English Masters graduate Lam Kam Foong had taught every stage from pre-primary to university. A passionate scholar of language and linguistics, she became increasingly concerned about the literacy problems…
Read more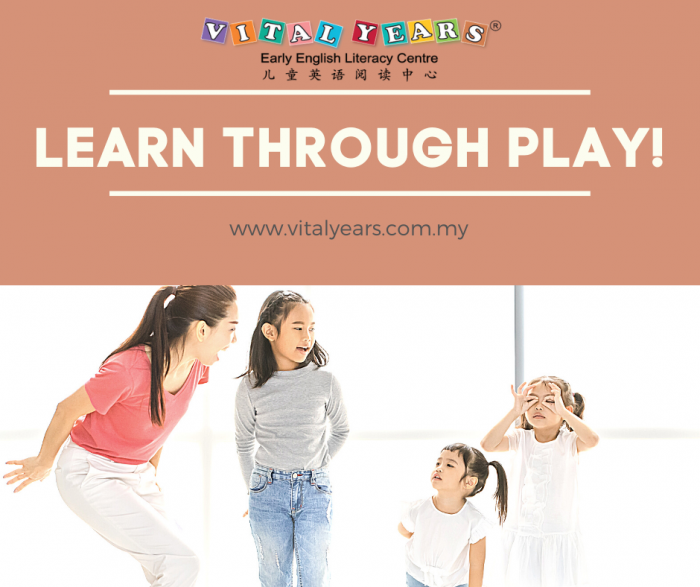 Posted by admin on / 0 Comments
Don't underestimate the power of play! At VITAL YEARS, we encourage playtime and interaction because that's where children learn values like 'caring is sharing'. It's also a great time to sneak in new words to expand their vocabulary bank. That's why this is an important element in our programme! Find out more at the nearest...
Read more
Employment Opportunities
VITAL YEARS is expanding!
From administration to marketing, computing to working with kids, we are always on the lookout for great people.
If you are well-presented and passionate about a role behind the scenes, send your details and area of expertise to info@vitalyears.com.my.
If you are interested in a teaching position within one of our VITAL YEARS Early English Literacy Centres, please contact the centre nearest to you via our locations page.
It could be the best decision you've ever made.
Franchise Opportunities
Making money doing what you love is a privilege few people enjoy.
Owning a VITAL YEARS Franchise is as much about passion as it is profitability, ensuring that generations to come are provided with the best in education.
For over a decade we have provided our Franchisees with:
A safe and stable business plan
A limitless market
Reasonable franchise fees
Networking and team-building opportunities
Throw in a dynamic support team, comprehensive training and an unbeatable product and you have a recipe for success in the palm of your hand!
Call +6 03 6280 1888 or email us here
Pahang
VITAL YEARS Raub
4, 1st Floor
Jalan Lipis
27600 Raub
Pahang
609-3563818
VITAL YEARS Sri Dagangan
A23, Ground Floor
Jalan Tun Ismail 2
25000 Kuantan
Pahang
609-5093481
Facebook
Pulau Pinang
VITAL YEARS Ong Yi How (Butterworth)
6178, 1st Floor, Jalan Ong Yi How
Taman Perindustrian Ringan Teras Jaya
13400 Butterworth
Pulau Pinang
604-3240150
Facebook
VITAL YEARS Kepala Batas
5, Persiaran Seksyen 4/6
Bandar Putra Pertam
13200 Kepala Batas
Pulau Pinang
604-5741007
Facebook
VITAL YEARS Jalan Maju(Bkt Mertajam)
No. 3186, FIrst Floor Jalan Maju
Pusat Perniagaan Maju Utama
14000 Bukit Mertajam
Pulau Pinang
604-5371368
Facebook
VITAL YEARS Jln Perak
332E, 1st Floor, Harmony Square
Jalan Perak
11600 Georgetown
Pulau Pinang
604-2827377
Facebook
VITAL YEARS Sg Ara
4A, Tingkat 1, Tingkat Kenari
Desaria Shop Office, Sg Ara
11900 Bayan Lepas
Pulau Pinang
604-6466266
Facebook
VITAL YEARS Gelugor
163-1-10 Centrio Avenue
Jalan Permai
11700 Gelugor
Pulau Pinang
604-2939006
Facebook
Selangor
VITAL YEARS Bdr Puteri (Puchong)
20-1, Persiaran Puteri 1
Bandar Puteri
47100 Puchong
Selangor
603-80613124
Facebook
VITAL YEARS Puchong Jaya (Puchong)
89A, Jalan Kenari 20
Bandar Puchong Jaya
47100 Puchong
Selangor
603-80709716
Facebook
VITAL YEARS Damansara Jaya
77A, Jalan SS22/19
Damansara Jaya
47400 Petaling Jaya
Selangor
603-77267280
VITAL YEARS Klang
30/1 1st Floor Jalan Tiara 2A
Bandar Baru Klang
41150 Klang
Selangor
6017-5006770
VITAL YEARS Setia Alam
(Shah Alam)
8-2-2, Jalan Setia Alam Prima Q U13/Q
Setia Alam, Seksyen U13
40170 Setia Alam
Selangor
603-33431129
Facebook
VITAL YEARS Dataran Ara Damansara
F-1-7, Block F, Jalan PJU 1A/20D
Dataran Ara Damansara
47301 Petaling Jaya
Selangor
603-78422839
Facebook
Contact Us
10-2, Jalan 4/62A ,
Bandar Menjalara,
52200 Kuala Lumpur, Malaysia.